Only one winner out of 10 candidates will leave his own footprint for all eternity on the famous Champions' Promenade of the Principality of Monaco.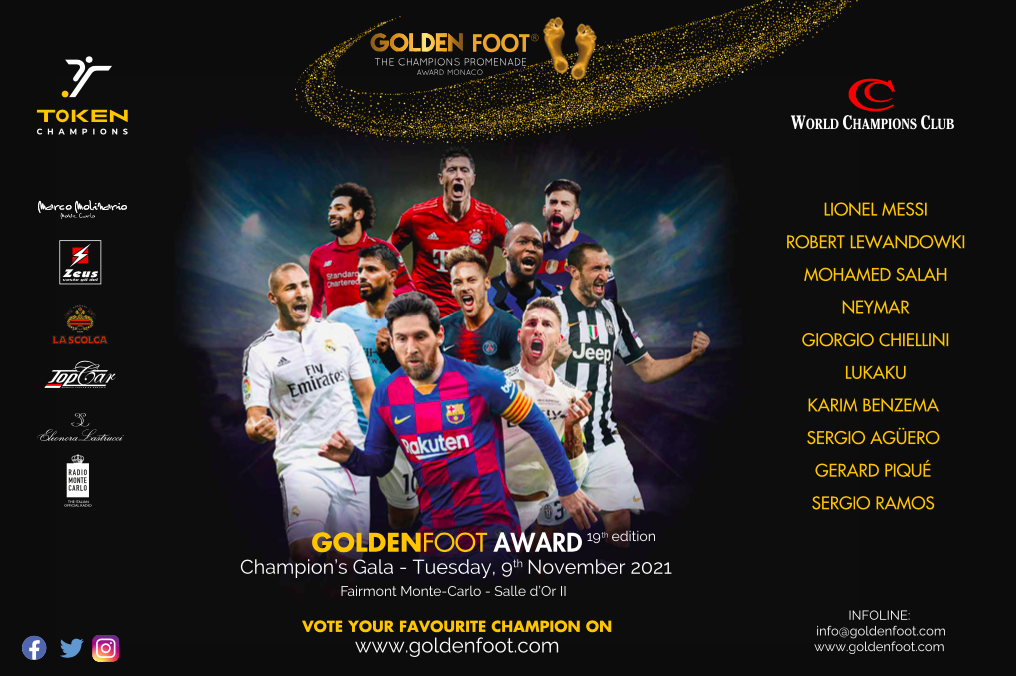 Voting to elect the footballer who will be awarded the prestigious Golden Foot Award 2021 is officially open.
Ten candidates and only one winner, chosen exclusively by the supporters and football lovers in the world. Everybody can express their preference, connecting directly to the official web site www.goldenfoot.com until the 31st October 2021. Who will succeed Cristiano Ronaldo, the 2020 winner?
Here are the 10 star champions in the running for the 19th Golden Foot Award:
Lionel Messi, Robert Lewandowski, Giorgio Chiellini, Neymar Jr., Mohamed Salah, Sergio Ramos, Sergio Agüero, Gerard Piqué, Karim Benzema, Rumelu Lukaku.
The Golden Foot Award can be awarded only to footballers in activity, having turned 28. It is the unique prize worldwide which can be given a player only once in his career and the recognition that opens doors of the famous Champions' Promenade in the Principality of Monaco, the only place in the world where all the footprints of those champions who wrote "the history of football" are collected.
Maradona, Pelé, Eusebio, Zinédine Zidane, Cristiano Ronaldo, George Best, Zlatan Ibrahimovic, Roberto Baggio, are among the 80 star players who were awarded the prize and left their footprints forever.
The Awards Ceremony and the laying of footprints of the 19th Golden Foot Award will take place on the 29thNovember 2021 in the Principality of Monaco, on the occasion of the prestigious Champion's Gala at the Fairmont Monte-Carlo.
In addition, the Golden Foot Legend Award will be given to some unforgettable champions of the past and the Golden Foot Prestige, established in 2020, reserved exclusively to a club president in activity, who stood out for the results achieved by his team.
The Golden Foot Award, conceived and organized by the World Champions Club in the Principality of Monaco, was born in 2003 and since its first edition it has been under the High Patronage of H.S.H. Prince Albert II of Monaco.
Media Relations GO Monte Carlo